Hey, y'all.
We're Spruce and Honey Waxing Parlor – a natural waxing and apothecary shop located in the charming Cannery District of Bozeman, Montana.
Welcome to our little blog where we'll be breaking down the waxing experience from top to bottom (literally) while giving you our favorite content surrounding natural skincare, modern beauty, health, and wellness.
We promise to always make you feel comfortable and at ease here, so leave your worries (and modesty) at the door.
_______
As a female owned and operated company, we love it when we come across other female-focused brands and businesses. So it comes as no surprise that the majority of the lines we carry in our apothecary shop are also female ran.
Just like Beyoncé pointed out, the people who run the world in the beauty and skincare department are predominantly women, and make some of the best products we've ever tried. Not to mention, all of our products are natural, safe and contain good-for-you ingredients to give you the results you're looking for.
To share the stories of these women and show thanks to some really incredible people, we wanted to highlight a few (of many!) product lines we carry that are female-owned and operated.
Check out some of our favorite gals below.
pc @daniellelopezphoto
Bozeman local and Holistic Nutrition Educator, Megan Ulrichs developed Glo Luxury Oils after years of research and experimenting to create a skincare product that makes you feel good from the inside out. Megan visits farms and botanical gardens in the U.S. (soon to add Europe and Morocco) with the intent to hand-select the carrier and essential oils for her products. Megan is passionate about making personal connections with growers and supporting local communities. It is this level of integrity and passion that raises the vibration and quality of glō Luxury Oils, offering you a true farm to skin product!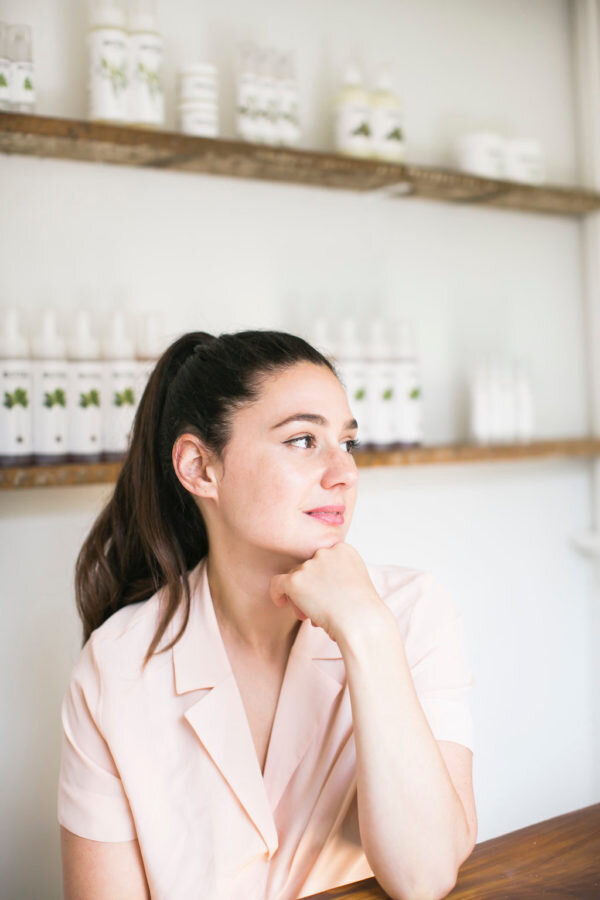 Justine Kahn created Botnia after wanting to develop a skincare line that was more customized to what people's skin actually needs and desires. Her signature collection of powerful, raw ingredients formulate a complete line of science-based, truly organic skincare products. Botnia has been in our store for many years and we absolutely love every product we try!
May + Paola of
Olio E Osso
The Olio E Osso team includes a diverse set of smart, capable and dedicated women—daughters, mothers, students, and friends from all over the world. Their products are made by hand in small batches in Portland, Oregon. They utilize an all-natural base of nourishing olive and shea oils, bound together with natural beeswax and grapefruit essential oil.
Emma started making Everyday Oil years ago for herself - simply because she couldn't find anything like it on the market. Everyday Oil is 100% plant based - there is nothing synthetic or artificial, and what these oils do for your skin is endless. The science behind each oil is amazing. They do everything from boosting cell and collagen production to protecting the skin from UV damage, killing bacteria, easing inflammation – the list goes on.
Adriel + Jen of
Clary Collection
Their transition into motherhood sparked many changes, one of which was a new awareness of the value of clean skincare products for themselves and their families. In their search, however, they continually came up short. With curiosity and determination, they began to seek alternatives and eventually created their own line – the Clary Collection.
Gina Benedetto is a studied botanical alchemist, who draws on her travels to natural locations far and wide, and is inspired by the purity of plant essences. Her debut line of elegant botanical perfumes and room sprays are truly…a breath of fresh air. Veyali offers a variety of perfumes and natural room sprays rooted in botanical essences.
These are just a handful of the women-owned and operated brands we carry in our apothecary. Stop by the Cannery District during our shopping hours to check out all of our natural skincare and beauty products and support the women who run the world.
XO,
Spruce & Honey